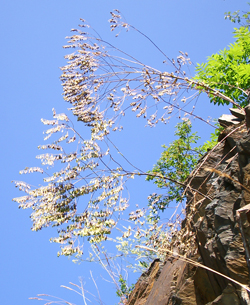 Refresher
A woad plant had established itself in my mother's window box on the balcony. As soon as I held my hands over the plant, the heaviness that had previously been felt dissolved away and I received the message: "I'll refresh you."

The connection to the woad plant led to the same result for my sister. Without telling her anything about my inner state, she confirmed my experience. She also felt refreshed.

Although my sister had followed my "woad development" with interest, she had never previously asked for woad seeds, because she did not think that she could grow woad in her city apartment. Now she asked for some woad seeds.

When my sister holds a little sachet with woad seeds in her hands, she confirmed my earlier observations that not only the woad plant, but also the woad seeds have a clarifying, toning and strengthening effect.

Inspired by this experience, I searched for a woad plant in my mother's garden to fill the gap in my window box. I discovered a woad plant of the right size on a patch of grass. When I went to dig it, it turned out that the plant, complete with a compact root ball was just lying on the lawn.